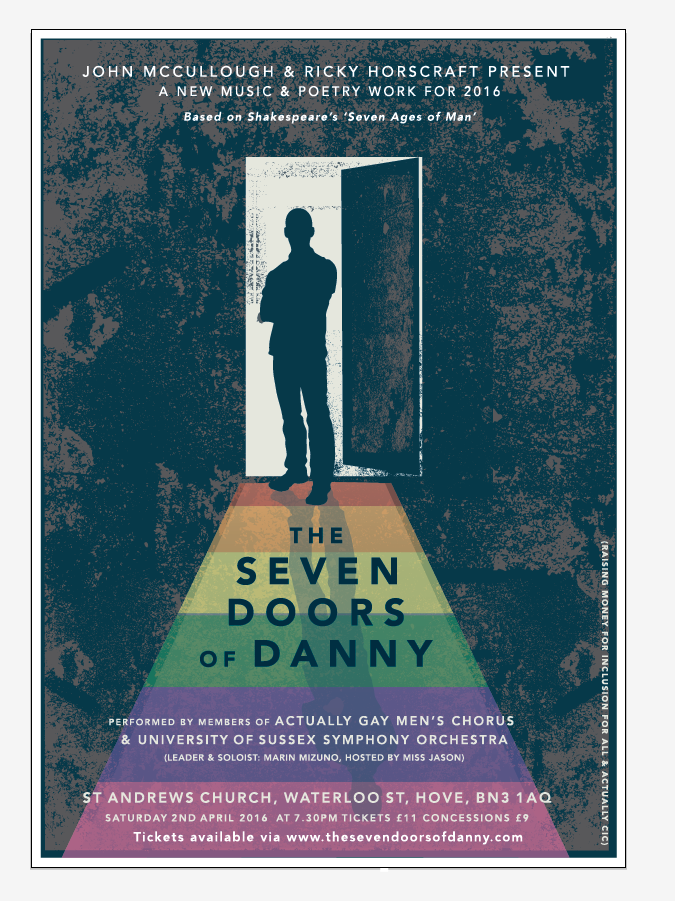 AGMC MEMBERS OPEN THE DOOR TO WORLD PREMIERE
Next month sees members of Actually Gay Men's Chorus join forces with members of 
University of Sussex Symphony Orchestra in an exciting world premiere - "
The Seven Doors of Danny". 
Written by AGMC member, Ricky Horscraft, in collaboration with Brighton-based poet, 
John McCullough, the work is based on Shakespeare's "Seven Ages of Man". And  
hrough seven diverse songs, we follow the story of the title character from childhood to 
old age, with bullying, rejection, unfulfilled love, and criminal ways all thrown into the 
mix. 
The work has been 18 months in the making and when performed in part to an invited 
audience in June 2015, the enthusiastic reception told Ricky and John that they were onto 
a winning idea. 
Each song in the work is performed by a different soloist from the Chorus 
plus one 
surprise guest, accompanied by 28 musicians.
Hosted by Miss Jason (who also makes an appearance in the new work), the concert will 
be raising funds for Inclusion for All and Actually 
CIC. And to whet your appetite, John 
and Ricky have chosen some of their favourite music and poetry to open the show.
The concert is on Saturday April 2nd at 7.30pm at St Andrew's Church, Waterloo Street, 
Hove, BN3 1AQ. Tickets from £9